How Modern Technology Can Encourage Language Learners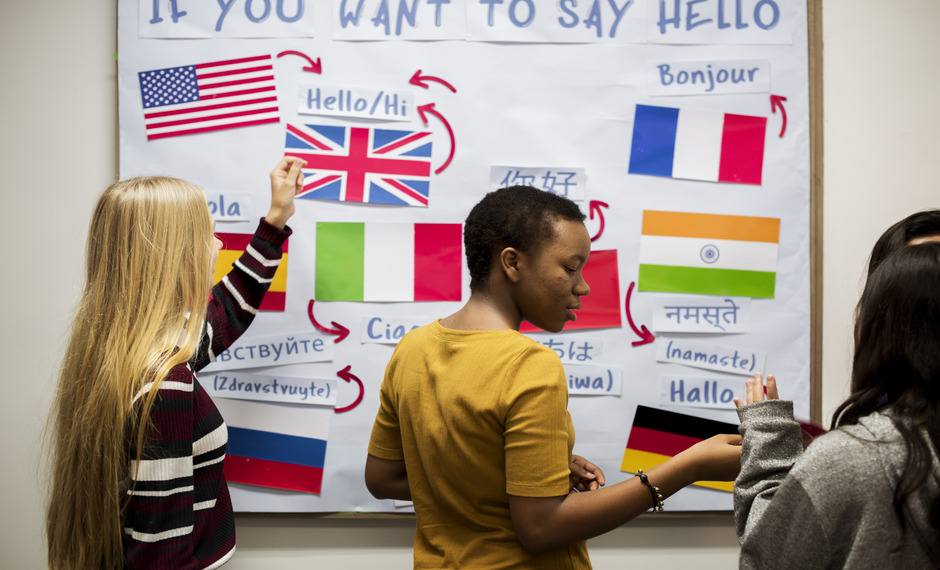 Technology is having a huge impact on language learning worldwide. The landscape of language teaching and learning has evolved so rapidly that the formal classroom does not serve as the primary learning site anymore. The use of technology has become a significant part of the learning process in and out of classrooms and is now viewed as the core requirement in modern schools and universities.
Modern language teaching and learning technology is inclusive of but is not limited to language labs, computerization, multimedia devices, mobile phones, audio/visual multimedia content, and social media which can facilitate faster and more comprehensive language learning.
How use of technology in language learning assists students?
1. Wider exposure of students to the target language and culture
Technology enhances the students' opportunity for fruitful interaction with native speakers and other language learners at various levels within or outside the classroom. This form of practice can lead to perfection and technology-driven language learning actually makes it possible.
2. Higher motivation and attention
Evolving from passive recipients to active learners, students can feel enthusiastic about language learning and are motivated to practice more, using devices which help them to practice a language through methods such as voice recognition along with interactive multimedia exercises, and more.
3. Flexible learning
More freedom is given to students within the classroom to decide how they approach the language and choose when and where to learn outside the classroom premises. Self-decision making and individual responsibility-taking help stimulate profound and enriching linguistic immersion.
How does technology-driven language teaching supports teachers?
1. Facilitates a better learning environment
In a technology-driven learning environment, flexible classrooms where connected devices, audio-visual tools, and purposeful furniture are integrated facilitate positive student engagement and a mix of independent, small-group, and whole-class learning that is now viewed as crucial to student success.
2. Increases the possibility of using a wider range of language teaching methods
When compared with traditional language teaching techniques that usually make students passive and bored, modern language teaching strategies utilize multimedia, communicative techniques, various available resources, and educational games providing students with opportunities to meaningfully increase their exposure to language and thus make their own knowledge.
3. Helps connect the classroom with the real world
Usage of technology in the classroom such as videos, images, and software solutions empower teachers to incorporate the larger real world into the classroom. Transforming theories into practical experiences drives students to practice and be immersed in language learning.
How software solutions improve efficiency and effectiveness in the learning of core language skills?
Pronunciation and speaking skills
Learning how to pronounce is the key starting point in the process of language learning. Displaying video clips for students provides detailed guidelines which show how to move their tongue and jaw in the right way to produce a certain sound. Speech recognition technology can help students correctly pronounce common words and phrases for which they shall receive targeted feedback and scoring to get the sounds just right.
Apart from facilitating individual practice, software solutions can group students in pairs for spoken interaction and help make communication more productive. Hence, teachers can manage language class more effectively and let students invest more time into speaking and active learning.
Listening skills
Teachers can launch a wide range of graded listening resources which are specifically designed for L2 learners to improve listening skills. A number of websites and authentic listening materials which includes TED talks and news broadcasts could be effectively utilized based on what students already learned. Each learner can have a truly personalized experience even if they are learning the same topic.
Reading skills
Reading comprehension demands the mastery of fundamentals, language, and higher-level thinking skills. Teachers could choose available materials, from those for vocabulary building to those for test preparation, in order to improve students' reading comprehension step by step. Software solutions keeps a track of students' progress which enhances their awareness of their strengths and weaknesses and, thereby provides customized reading texts for boosting their specific skills.
Writing skills
Language learning software can assist in brainstorming and visualizing students' ideas, organising their information sequentially, and much more. Spell-checking tools automatically check everything making it easy to spot and fix errors quickly. Blogs facilitate students to create expressive personal writing or to encourage peer review while revising shared drafts of written work. Therefore, all available software solutions can be effectively employed to progress students' writing skills.
Akshharam is an Online Malayalam learning School that offers Beginner Malayalam Learning Classes Online and real tutors which provides the most interactive and fun way to learn the language. Customized lesson plans are provided for each class based on their interest and language levels. The most effective method is used for each student which assists them in how to read, write and most importantly speak the Malayalam language. Readers, textbooks, audio, and video files are used to improve vocabulary and build the confidence to speak.