10 Easy Tips to Improve Handwriting for Kids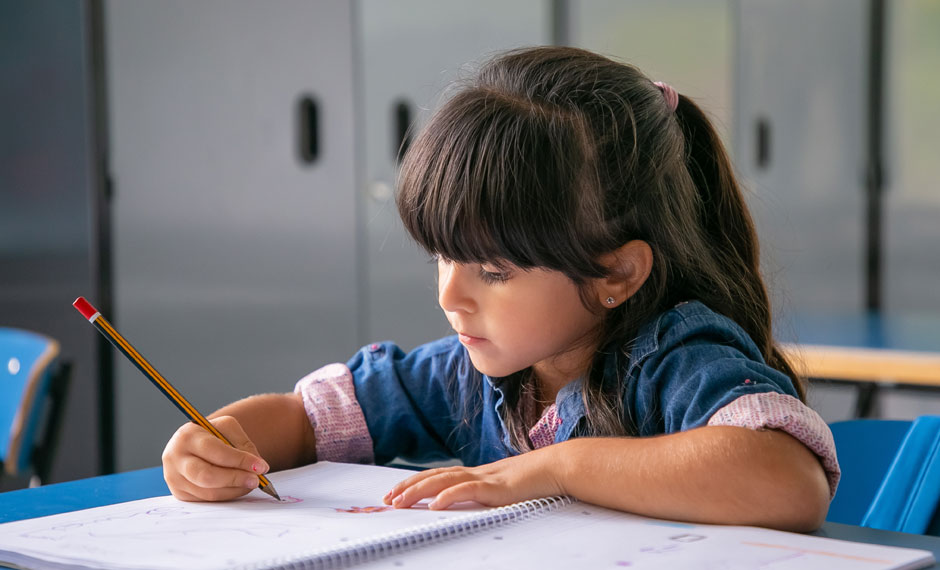 Handwriting is a way to assess a child's development. Their writing style reveals a lot about their growth. It should be carefully monitored.
A lot can be said about a person just by looking at their handwriting. To have the right mindset, a strong character, and persistence, one must be taught the right things starting early.
Handwriting tells a lot about one's character. So, this craft must be learned with patience. Kids don't usually have enough patience, and that is why parents must take responsibility to improve their child's handwriting. A lot of time and effort must be put into this task.
First one must learn for themselves the right technique and then implement it on their child.
To understand the process of improving your child's handwriting read through this blog. These are 10 easy ways you can help your child improve their handwriting.
Select the right instrument for writing
Choosing the right paper and pencil is very important. There are different grades of paper and pencils available in the market. Choose the correct one, like a thick pencil or crayon for kids with weaker grips. Depending on their hold try different pencils and paper grades.
Learn the correct grip and posture while writing
There are different grips for different age groups among children. Teach them the right grip corresponding to their age. To a five-year-old teach them dynamic quadrupod or lateral quadrupod grips. Also, make sure that they are adopting the right posture while writing. Sitting straight and writing legibly has a very close connection. So get that sitting posture right.
Use ruled notebooks or letter tracing books to practice writing
To improve your child's handwriting, get them ruled notebooks or letter tracing books. Let them practice on them and understand the dynamics of writing on their own. Teach them to write better with the help of those books. In case it is Malayalam your kid is learning, then try using a single-lined notebook or letter tracing book specific to Malayalam.
Identify the underlying problem
Check for their motor skills and grip styles. Check their confidence levels and remember not to push them hard. Check whether is their and developmental issues like autism spectrum diseases. Once you identify the underlying problem you can target and work on that issue first. This will help you understand your kid better.
Work on your kid's motor skills
For some kids, motor skills development is slower. For them give puzzles, play catch and catch, give them clay to make toys, or just use anything that improves the eye-hand coordination. Give them tasks that interest them so that they will keep at it for at least a while. When they are bored change the task.
Hold their hand while writing
It is a good way to help your child improve their handwriting. Hold their hands while writing and control their movements. Let them learn it the hard way. Make sure they are using a letter tracing book or a four-lined notebook. Let them start with your assistance and slowly lead them to write on their own. This usually works wonders in improving handwriting.
Make the process fun
Don't be a hard taskmaster. Make it fun. Ask them to write something interesting, like a story or about their day at school. Make them think and express themselves. This surely will improve their thinking ability and dexterity will come on its own.
Start with writing slowly
Don't rush while writing. Divide the writing tasks into smaller pieces and ask them to take their own sweet time to finish them. The only condition is- it should be neat. Once they are done practising the right hold and writing style, they will start writing faster. Till then don't hurry and have patience.
Ask your child to read more
Reading has a lot of advantages. It gives the idea of how to form letters and words, and how to write with proper spacing. The differences between each case and their font will get imprinted in the child's mind and they will try and imitate it. Don't underestimate the power of reading. Buy them some illustrative books or comics.
Keep practising every day
Practice makes a man perfect. So keep them practising every day until they get it right. This will get them up to speed in no time. This craft needs a lot of time so dedicate for it at least an hour or two every day.
If you are looking for a Malayalam language writing class online, then you have Akshharam, an online Malayalam class. At Akshharam, a Beginner Malayalam learning class online, namely the Harishree session is available. So, if you are a beginner then need not worry a bit.
It also offers other courses like Vayanashala sessions, Thoolika sessions, and Kilikonchal sessions aimed at advanced learners. It is step by step learning design that will help you learn the right way.