How online education boosts parent-teacher relationship?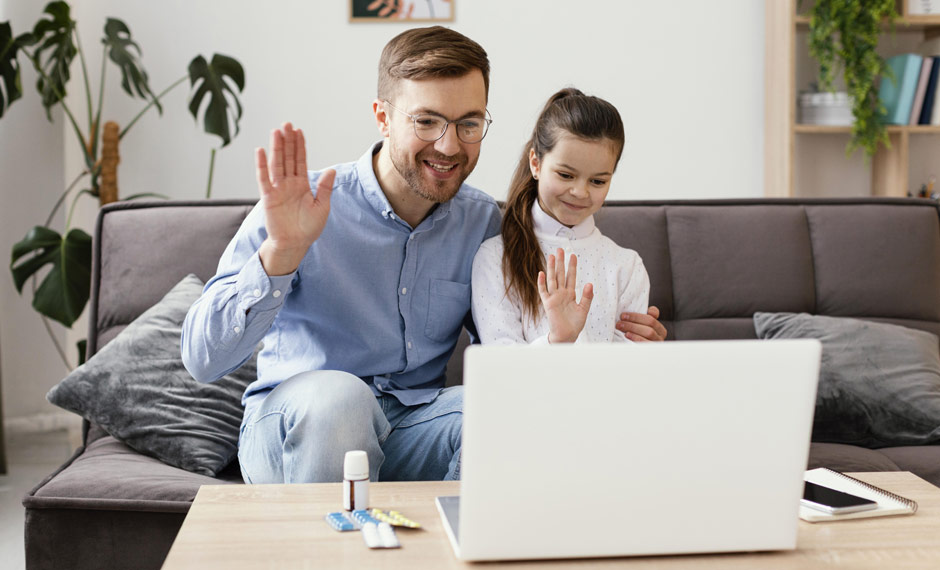 The world is shifting to virtual relationships. People meet online more often than meeting offline. This new trend post covid has had a life-changing effect. internet has been both a boon and a bane. As the lifestyle is changing to this virtual reality, we must look at the sunny side of this change and catch up with it.
We have seen the shifting of classrooms from physical to online in a very short period. Schools, even post covid, conduct such sessions. Offices once in a while ask their employees to work from home. The Internet has taken over the globe by storm. We need to learn to cope with this new situation.
Our children are attending online classes and the chances of them meeting the teachers in person have reduced. These classrooms provide a flexible schedule. All its advantages taken into account, it provides a proper home-based education. With this parents and teachers, who were reluctant to meet due to their busy working hours, now have an easier option. They can schedule their meetings through a separate app and keep track of their children's performance at regular intervals.
With this in place, we all are getting to know how virtual relationships work. This will increase the chances of getting our children used to this internet life and performing and outsmarting the previous generations and we can be perfect guides to this life. It does not mean that we reduce their social interactions and bring them up as internet babies. It only is helpful to adjust to the changes required to cope with the world's ways.
Now teachers are more accessible with the internet. They can be given suggestions to understand our children better. This new technology has infiltrated our life and we must accept it. The sooner the better. Classrooms are now accessible to all including parents. Parents can monitor their kid's activity in a classroom. Classes can be attended by parents alongside their kids. This helps in identifying the shortcomings of the session and how it can be improved, which can be discussed during parent-teacher meetings online.
The teachers and parents together can design the curriculum based on each child's needs. The burden on the child can be eased through the process of regular online meetings and inputs given from parents. The reasons for the lack of attention during class can be discussed and sorted out for the child. Sessions can be made more interesting. All this will work to the advantage of the child.
All these will help chart the profile of the child and create a balanced plan to boost the child's morale. Individual interests can be taken into account and the children can be better groomed for a career in suitable fields which aligns with their interests.
This day-to-day interaction with teachers will create a good rapport for the child, and he/she will receive the benefits of it. Their morale will be up, and this will show through their grades. Also, the parents will be aware of what needs to be done to improve their child and give him a better future. All this can be achieved through these convenient online meetings. Both parents and teachers can keep tabs on the child simultaneously. The more eyes, the lesser the worries. With all these features the online classroom system is a success among the young generation. The old-fashioned classroom had its fun, but these days we must concentrate on milking the virtual classrooms. The online classrooms have bought us together on one platform and unified us. The anonymity of the classroom walls has become obsolete. No child has to face that old-fashioned dark sarcasm and parents can make sure their child is treated right in the classroom.
This has created an indispensable bond between teachers and parents. They are in this together. They had been bought under one flag and shouted out clearly that their motto is to create a better future for the children, and none can cheat on this. That is the relationship is better with online classes and has a positive effect on children's life as a whole.
The focus can be more on the children and less on trivial matters. This partnership has led to better children-oriented classroom programs. Each child will get the attention he or she needs and that too under the supervision of both parent and teacher.
If you want to learn Malayalam quicker or want to teach it to your children then there is Akshharam that provides Online Malayalam classes for children. At Akshharam, the programmes and sessions will break down the tedious process of learning Malayalam and make it look simple. There are sessions like Harishree, Vaayanshaala, Thoolika, and Kilikonchal that will teach your kids step-by-step Malayalam until they become fluent in the language.
If you want a Malayalam language writing class online you can consider Akshharam's Harishree and Thoolika sessions where the children are taught to write. Akshharam is the best bet for your child when it comes to learning Malayalam online. Save your time and money by opting for Akshharam.