How do Digital Classrooms Help in Effective Malayalam Learning?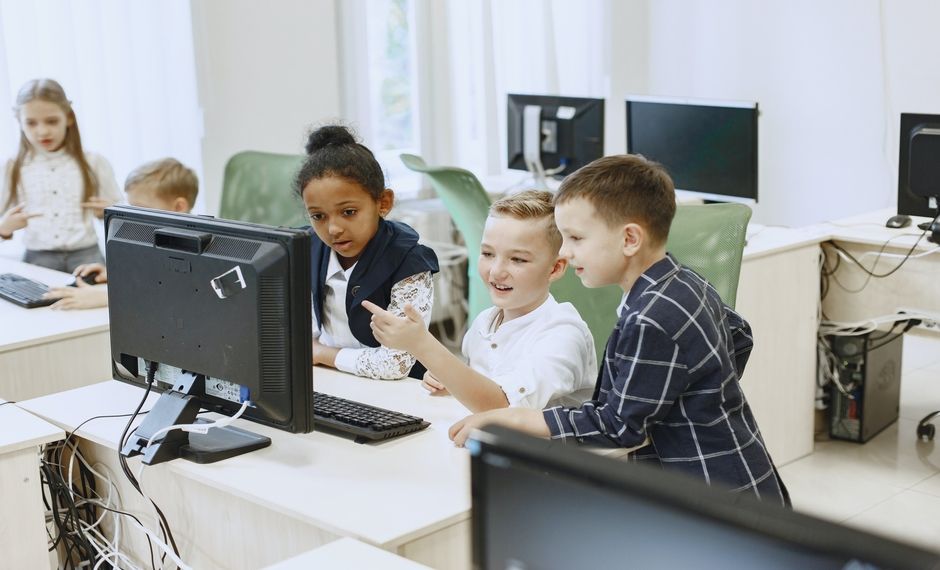 In the cutting edge world, Technology in education opens up an enormous universe of conceivable outcomes regarding how we convey, share and draw in with students introducing various thoughts, realities and theories. Today the digital classroom settings have transformed from the teacher focused customary strategy to the student-focused digital specialized technique. Digital learning truly opens the entryway for a relied exclusively upon the restricted student assets to convey and assists with learning with a various number of assets. It propels the student towards learning and helps for a more successful Teacher-Student relationship. Involving innovation for education incites student's interest, supports their commitment, and prompts better learning and understanding. These elements are vital for each powerful teacher and today they can be handily accomplished by involving digital devices in classrooms.
Learning Malayalam can appear to be challenging for certain children, and it tends to be significantly harder for children living outside India. For working parents, particularly those working abroad, it will be a genuine test to teach their children Malayalam. Nonetheless, presently with the presence of digital classrooms, it is currently simple and powerful to learn Malayalam. Let us see how!
Characteristics of Digital Classrooms
•Digital classroom contains all types of electronically upheld learning and teaching strategies that make it simple for children to learn Malayalam. At the point when innovation is coordinated with regular illustrations, making interest among students is bound. It makes learning fun and charming. Teachers can teach similar arrangement of schedule in various ways. With the assistance of savvy classrooms, a teacher can take the students to a virtual field outing to make the learning interesting. This technique likewise supports more cooperation with virtual examples or through visuals or videos.
•Innovation coordinated classrooms create eagerness among students. They will partake in the Malayalam language being educated and can see better and effectively with the assistance of upgraded teaching techniques. Thus, when they understand better, they can hold the information for a more extended time frame. One more benefit of this cycle is, teachers can try and choose what turns out best for students learning.
•E-learning gives open doors to unique learners to get to Malayalam learning resources whenever it might suit them. The hindrances of actual presence or development to classrooms are killed especially for those with mobility related disabilities. With the help of mobile devices, unique learners can sign up for programs or courses on e-learning platforms. This method of learning likewise assist parents with monitoring their child's learning progress.
•Learning tools and innovation empower students to foster successful independent learning abilities. They can recognize what they need to learn, find and utilize online assets, apply the data on the main concern, and even assess resultant input. This builds their effectiveness and efficiency. As well as drawing in students, digital learning technology level up decisive reasoning abilities, which are the reason for the advancement of scientific thinking. Children who explore open-ended inquiries with creative mind and rationale learn how to decide, instead of just briefly remembering the reading material. Hence, online platforms will assist with further improve the Malayalam communication skills easily.
•Instructing students through digital learning sites and applications is straightforwardly designated at the psychology of students, which will assist the students with understanding and gather data from an alternate point of view. Such digital platforms cause them to comprehend the ideas by making them try assignments, puzzles, and educational games. The general media type of education is been loved by the greater part of the students. This newness and oddity in the universe of learning makes them energized and anxious to learn Malayalam language.
•Digital classrooms in Malayalam assists students with breaking down what they have been taught and what is the wellspring of it which intrigues them to know all the more yet in an efficient manner where they know how, when and what to learn. This general cycle assists the students with learning practically and not just theoretically.
•Digital classrooms are available anyplace at any time. Parents, particularly working parents both in and out of India can ensure that their children are on the track. The Malayalam class notes will be not difficult to get to and download and it consequently assists parents with saving their time.
•Digital learning is a powerful teaching strategy to improve students' learning experience. It underlines a top notch teaching experience and gives admittance to various items, input through developmental assessment, and self-learning a valuable open door at student's own speed. This will assist parents with assessing their children on their Malayalam learning abilitiy.
•Probably the greatest advantage of digital learning is that it permits teachers to cater the Malayalam learning plans or educational program to the individual student. They can consider the capacity of the student and how they are advancing, then utilize this to make changes in accordance with take into consideration obstacles or fast advancement.
The utilization of e-learning stages is found to meaningfully affect students' learning advantages and scholarly accomplishments. Thus, assuming that you are hoping to teach your children Malayalam successfully through digital classrooms, then visit Akshharam's site and look at how we make learning Malayalam fun and interesting for your children. Akshharam is one of the most incredible online Malayalam learning schools that offer superior online Malayalam classes for children. So, parents, what are you waiting for? Enrol your children in our Malayalam learning program today!