The Advantages of Online Learning for Kids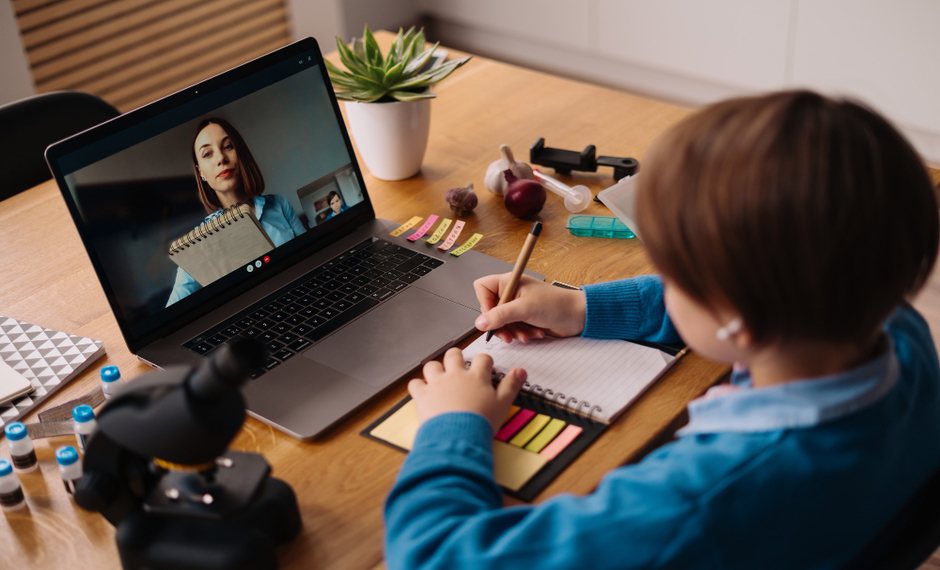 Through the advent of different digital technologies, online learning, also known as E-learning, has gained popularity in the education industry. Online classes are a boon for your kids, for several reasons. Here are some:
Enables the students to learn at their own pace
In traditional schools, your child is compelled to study and complete homework at the pace as other classmates.
But they can develop at their own pace during online learning, through a combination of self-paced work, DIY Learning, scheduled lessons, and deadlines. The requirements of your child are given ample importance and it also helps them to enjoy a more individualized approach to learning.
Your kids can take their own time while learning a new concept, and they can increase their speed when they are comfortable with a topic or have completely understood it.
Self-directed learning games activate engagement
In online learning, your children can choose the content of their interest and they can delve into it as much as they want, taking their own time. They also have the power to choose the tools they are most comfortable with, helping them learn and develop proficiency. Active engagement is possible as they can exercise their own choices.
Suits a range of learning styles
Your child possesses a unique learning style. It can be a more or less linear way or a verbal or visual method, or it can be through doing. Online learning involves a wide range of learning styles and uses a variety of methods suitable for different learners. More student-centered learning takes place.
Real-time assessment
Ongoing real-time assessment of your child's progress is made possible through the most advanced online learning tools. The learning experience can be tailored and progress feedback can be provided. Regular assessment helps keep your child challenged at just the right level-not too overwhelmed by the advanced topics and not feeling bored by the topics already known to them.
No geographical barriers
With an internet connection, educational resources are available anywhere. So your children can study within the comfort of your homes, or while away from home. Irrespective of the place of stay, or weather conditions of your area, your child is just one click away from classes over the internet.
Individualized schedules
Online learning can be done at any time that best fits the needs of your children and your family's schedule. For some kids, learning happens best before going to school. For others, online activities are done best, while the family is involved in dinner preparations. As virtual classes give opportunities for flexible schedules and learning at free hours, your kids can pursue their passion as well. Submission of assignments can also be done as per your child's schedule.
Computer and internet proficiency is enhanced
In this digital age, having a knowledge of computer skills is a must. Online classes make your children tech-savvy at an early age, as they learn to navigate through course lectures, download online materials, make online interactions, and communicate digitally during online classes. Accessing information, communication, and collaboration are some online skills that help your child to succeed not only in school but in life.
Ideal for introvert kids
Those introverted kids who shy away from group discussions in a normal classroom, actively participate in a virtual classroom, which is less intimidating than face-to-face classes, and where the degree of interaction between the teachers and students is greater. With internet-aided learning, the queries of the students get answered. Learning is enriched and information is processed better.
Easily accessible
Online classes can be accessed through any electronic device like smartphones, laptops, computers, etc.
Students are less prone to distractions and obstacles during learning
In the traditional brick-and-mortar schools, all the focus of your children is not on learning. They are influenced by peer pressure and other factors. Teachers have to devote their time to dealing with these behavioral issues as well and as a result, less learning takes place. In online classes, learning is more focused and socialization is done in free hours.
Mentorship from guardians
In E-learning, kids have learning partners in the form of you- parents and guardians. Faster learning is fostered when kids are accompanied by mentors from their own families. The strengths and weaknesses of kids can be known by you at an early stage of their lives.
More creative
According to studies, children find online courses and classes more creative and interesting. Illustrative designs and colorful diagrams catch the attention of your kids.
Akshharam is an online Malayalam learning school that conducts online Malayalam classes for children of age groups 5 years onwards. Customized lesson plans are provided to students of all classes based on their interests and language levels. The most effective method is used for teaching each student, in a fun and interactive way. Your child gets to enjoy all the benefits of online learning and becomes an expert in handling the Malayalam language. Enroll your child in Akshharam.